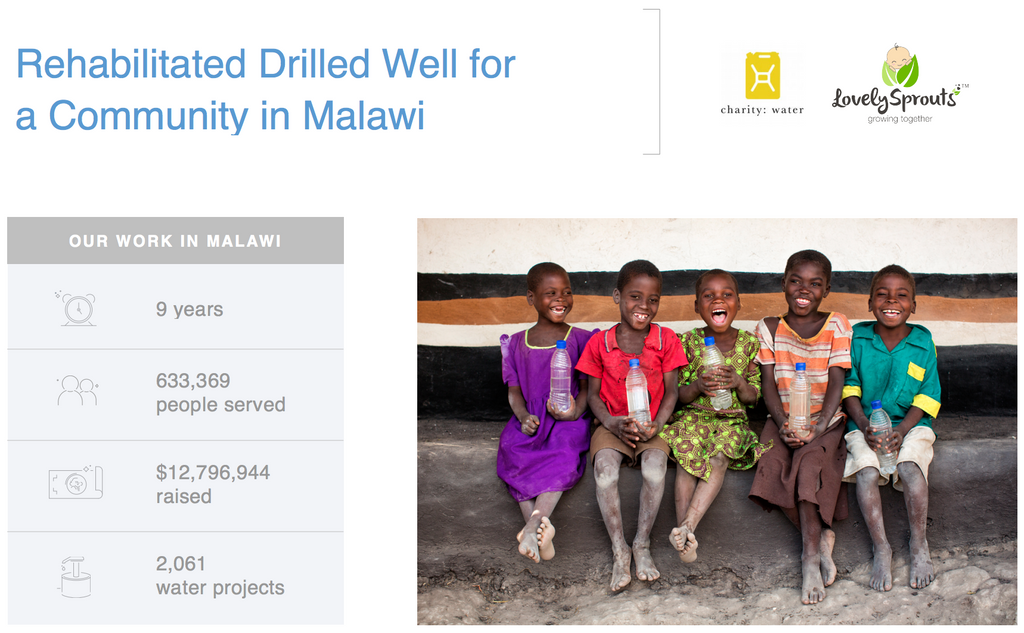 Hello friends,
As we have promised in our previous blog, we wanted to take a moment to reflect on the past year and the many blessings experienced throughout this journey, including how your proceeds are put to work. While we created LovelySprouts because we wanted to provide genuine, quality products to celebrate and help YOU capture life's precious moments, core to EVERYTHING we do is our founding mission to help provide resources and attention to the plight of disadvantaged children around the world. That is why a portion of ALL proceeds goes directly to organizations and charities like charity: water.

With 2017 now behind us, we are eager to update you on our contributions to charity: water for the year. We're very excited that with the growth of our business, we are able to contribute more and be named the official sponsor of a community water project serving over 200 people in drought stricken Malawi in Southern Africa. As a result of this project, households will have year-round access to at least 20 liters of clean water per person per day from a protected water source within a 30-minute walk.

100% of the money will be used to rehabilitate a drilled water well for a long-term, sustainable change. When the project is completed, charity: water will send us photos and GPS coordinates so we can see the exact community we helped. Additional details on the project can be found here: charity:water Malawi Project Details. Please look forward for the second update on the project progress.

From the bottom of our hearts, thank you for joining with us and supporting us throughout this incredible journey. We are truly excited to see what is in store for us in 2018 and more importantly, the lives we can change together.
Warm wishes,
LovelySprouts